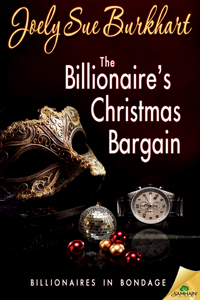 Contemporary Erotic Romance (BDSM)
Billionaires in Bondage #3
Publisher: Samhain Publishing, November 3, 2015  (Update: Samhain has gone out of business.  Buy links will be updated once these books are available again.)
A billionaire for Christmas… tied up in a bow.
The Recluse: Ever since his parents died in a holiday car accident, Harvey Caine has shut himself away with his lingering injuries and his guilt, hating Christmas more with each passing year. Clinging to the one obsession that keeps him alive—wrest control of Caine Enterprises from his aunt.
When his longtime friend mentions a niece who needs a job and a roof over her head for a few days, Harvey agrees, figuring his mansion is large enough to ignore her.
The Maid: Professional BDSM Mistress Kelsey Marley doesn't do "ignored." She's been hired to do what she does best—push the billionaire's buttons until his defenses crack. The paycheck will buy her dream of owning her own bar.
The Figgy Pudding Thickens: As Kelsey administers the discipline Harvey needs to release his pain, she realizes too late they're getting too close, too fast. If he finds out she's been bought and paid for, this holiday might go down in his ledger as a big fat loss for them both.